Protective glasses for children who play sports: a topic that's little discussed among parents, even though the numbers and percentages speak for themselves.
According to a study by SOPTI, the Italian Optometrist Society:
40.000 cases of eye injuries per year in Italy

25% of eye injuries are related to sports

30% of eye injuries caused by these incidents affect people under 16

90% of these cases can be prevented by using certified protective eyewear
Among the most risky sports for eye injuries are those involving the use of a ball, such as football, basketball, volleyball, tennis, softball and baseball, and contact sports such as boxing, karate and martial arts, not to mention activities considered "safer" such as artistic gymnastics, skateboarding and golf. Winter and water sports complete the list.
Eye trauma in sports: the classification of eye injuries
Traumas affecting the eyes are the leading cause of retinal detachment in young people and fall into four categories:
Blunt trauma, which can be direct, when a body such as a ball strikes the eye directly, or indirect, when bony structures near the eyeball are damaged or kickback trauma occurs.

Perforating trauma that creates ocular injuries that can be of varying degrees: from minimal perforations or linear wounds of the bulb to extensive lacerations with disruption of the entire ocular architecture.

Radiation injuries due to exposure to UV light while competing in sports such as skiing and snowboarding, but also water sports such as sailing, kitesurfing and fishing.

Barotrauma injuries occur during underwater sports and are caused by incorrect use of the mask or inexperienced technique.
It is therefore essential to have children who participate in sports use protective eyewear.
To prevent injuries and eye problems and to protect young athletes with protective eyewear, especially for children and young people.
Children's protective glasses: a guide to choosing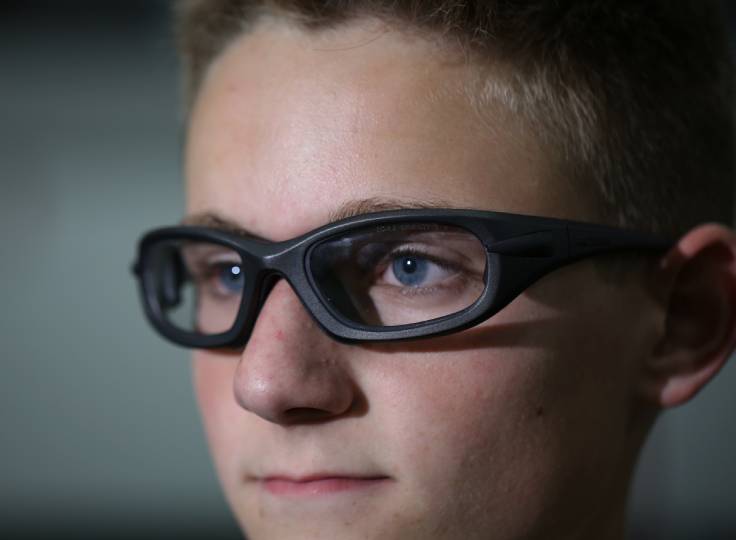 But how to choose the best protective glasses for children and young people?
To help parents, the specialist opticians at Pleyers can offer some useful information on how to make a safe choice.
Protective sports glass frame
It's essential to choose a frame designed for sports use made of a material that provides strength, comfort and maximum safety in the event of impacts or shocks. The best advice is to always choose hypoallergenic, tested and comfortable materials such as polycarbonate and rubber.
Protective eyewear closures: temples or an elastic band?
In this case it depends on the type of sport and the fit preferred by the young athlete. Glasses with temples+elastic band guarantee a firm, easily adjustable fit and are suitable for all sports. Conversely, glasses with an elastic headband are recommended for more active sports such as rugby, football and martial arts, and ensure comfort and a snug fit on the face.
Lenses of children's sports eyewear
Another element that is often overlooked when it comes to protective glasses for children: the lenses.
A useful tip is to make sure that the lenses are made of high-viscosity polycarbonate, a material that provides safety against shocks and impacts with natural UV protection. Furthermore, for children who need to correct visual defects such as myopia (short-sightedness), hypermetropia (long-sightedness) or astigmatism, it's advisable to choose a style that can also mount prescription lenses of all kinds, even with complex high powers. To offer the child the best vision and freedom to play.
Protective eyewear certifications, beyond the CE mark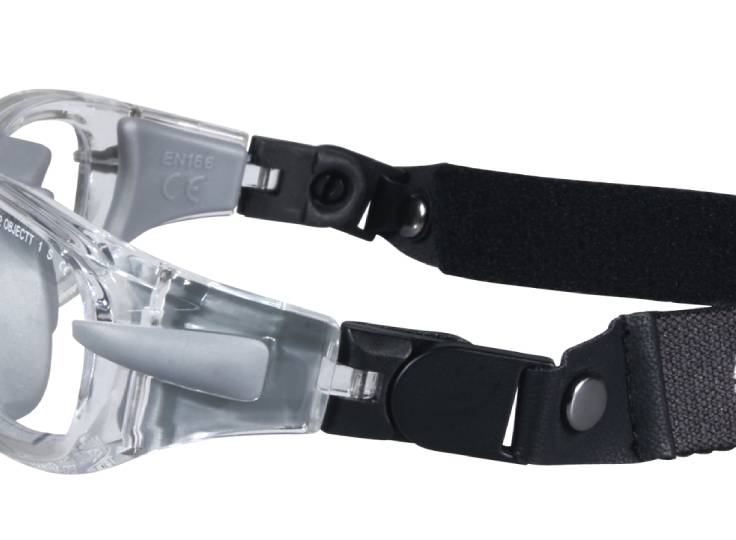 In the case of children's protective styles, it's essential to make sure that they are certified for use in sports. Therefore, they must be glasses that have been tested against shocks and impacts and are capable of ensuring maximum safety on any playing field. An additional but important element is the verification of the validity of the certifications for competitions abroad. Before buying, you should thus make sure that the protective eyewear you are choosing for your child is certified for these three safety standards:
ASTM F803 (USA)

EN 166 (Europe)

JIS T8147.5.1d (Japan)
Progear, the protective eyewear for children chosen by Pleyers
The multi-sport protective eyewear line chosen by Pleyers has all the characteristics that every parent should demand from a pair of protective glasses for children. Multi-certified, functional, comfortable and adjustable sports glasses. Available in a variety of colours designed to surprise young athletes who want to live their passion in total safety.
Need help choosing children's protective eyewear?
Ask our eye care experts for a free consultation.