As every athlete knows, technical equipment is a key to being able to enjoy your sport to the fullest in terms of performance, safety and peace of mind..
Sports eyeglasses are definitely one of the essential tools of any athlete with a visual impairment. A basic concept known to most but still important to remember is that prescription glasses for sports are not the same as glasses used in leisure time. These are eyeglasses designed specifically for use during physical activity with characteristics that vary depending on the sport being practised.
How to choose prescription glasses depending on the sport
Pleyers' experts guide you through the things you need to know and consider in order to find the most suitable pair of prescription glasses for yo ur sport.
1. Wrap-around frame for corrective lenses
By definition sports glasses require wraparound frames, an essential design to provide a wide field of vision when competing, protect the eyes against the elements and ensure a secure fit, even when moving. However, it's important to understand that not all sports wraparound glasses lend themselves to the mounting of corrective lenses, or at least to doing so in the most effective way for the athlete. Therefore, when choosing, always check with the expert that the selected frame will accommodate the lenses for the visual defect to be corrected. Another detail to check is that the gradation of the lens is not only concentrated in the central portion but covers the entire surface, including the curvature. Pleyers has carefully selected sports frames that can fit adjustable lenses for every visual defect, offering the best visual and competitive performance.
2. Optical Clips
Another solution designed for athletes with visual defects are optical clips, which fit independently inside the main frame and accommodate corrective lenses.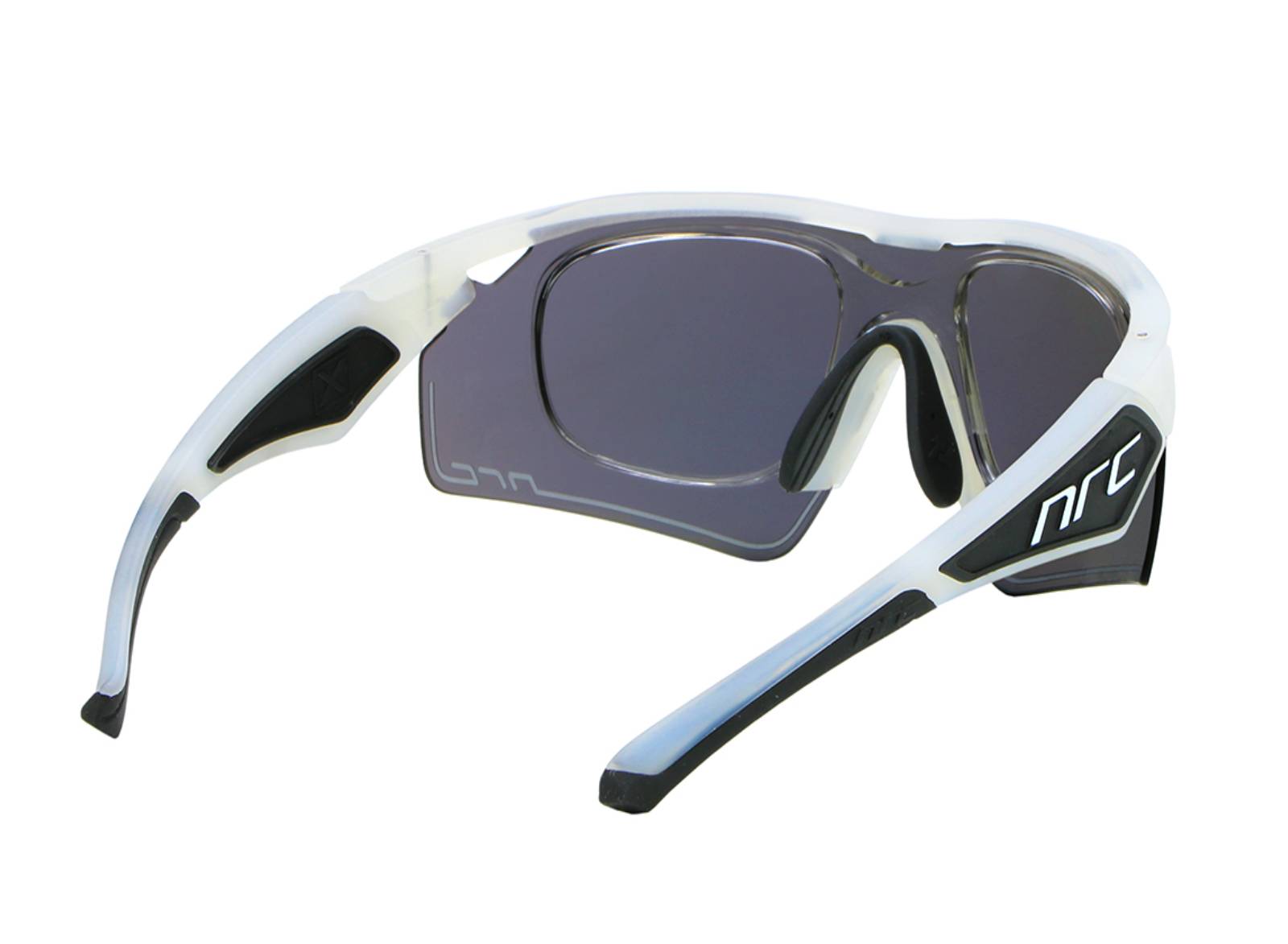 A solution often offered by the best brands in cycling, shooting and ballistics, ski and water goggles and found also in Pleyers.
3. Types of corrective lenses
Thanks to continuous research and evolution, today's sports glasses can accommodate prescription lenses that correct myopia (short-sightedness), hypermetropia (long-sightedness), astigmatism and presbyopia (age-related long-sightedness) as well as progressive or multifocal lenses that offer perfect focus both near and far with a single pair of sports glasses. This technology is also useful for many sports where people use monitoring devices for their own performance or that of their vehicle (car, motorbike, bicycle).
4. Lens colour
Another requirement of athletes who need to correct their vision during competition is to be able to choose prescription sunglass lenses. Did you know that the colour of the lens in sports eyeglasses isn't just for aesthetics? Each colour has a function and is more or less suitable for specific sports and visual defects.
Grey lenses
This is a neutral colour that is well suited for use in all sports due to the realistic vision free of colour distortion that it provides to athletes.
Green lenses
Green is a good choice for all sports, especially golf. Sports glasses with green lenses are particularly recommended for those suffering from hypermetropia (long-sightedness), while less suitable for those with myopia (short-sightedness).
Brown lenses
These lenses enhance contrasts and are mainly used on golfers' and motorcyclists' glasses. Sports glasses with brown lenses are also recommended for those who suffer from myopia, to correct their vision and protect it from the sun's rays, in the case of outdoor sports. 
Red lenses
The lenses in these colours, ranging from pink to red, are designed to emphasise the colours of the surroundings. They create a strong discolouration and are therefore suitable for skiing, snowboarding and snow sports. 
Yellow and orange lenses
Yellow or orange lenses also generate colour contrast and are often recommended for tennis, padel and shooting in low light conditions. 
5. Lens protection category
For those who play outdoor sports, a key aspect to consider when choosing prescription sports sunglasses is UVA/UVB protection.
There are five ways of categorising sunglass lenses:
Category 4
Extremely dark lenses for sports played in very bright light. Recommended for those trekking or climbing at high altitudes or for water sports such as fishing and sailing.
Category 3
Very dark lenses to protect the eyes against medium-strong light intensity. Ideal for snow or beach sports.
Category 2
Lenses that are less dark than the previous category, to be used under standard lighting for sports that take place outdoors and in direct contact with the sun.
Category 1
Contrast-enhancing lenses, recommended for sports taking place in areas where light levels change.
Category 0
Lenses for use in low light, ideal for protecting athletes against wind and insects.
6. Lens treatments according to needs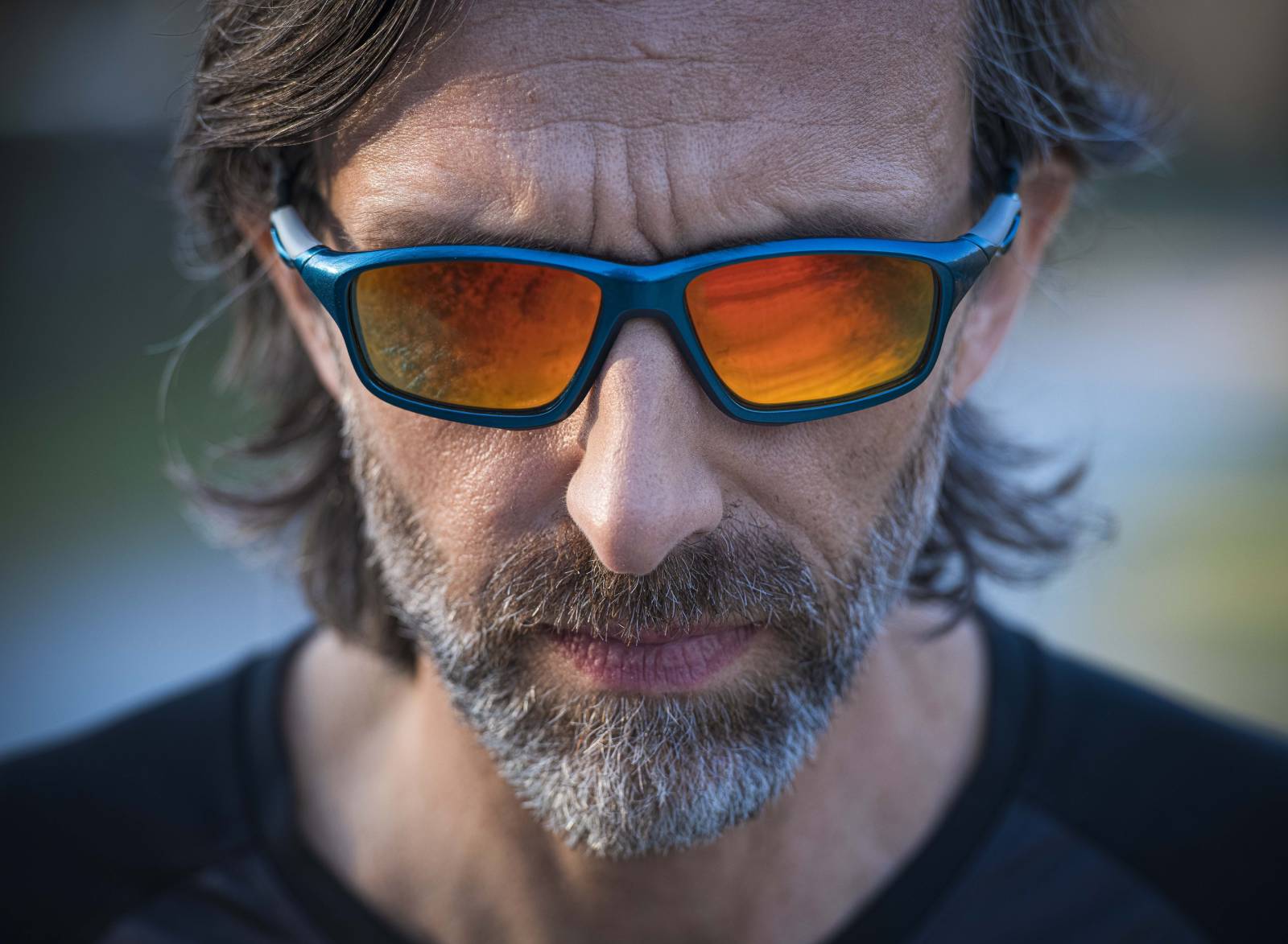 It's very useful to know the most recommended lens treatments for sports glasses. 
This way you can ask your optician if it's possible to apply them to the corrective lenses you need.
- UV filter, a lens treatment that protects the eyes against ultraviolet radiation that often causes visual problems in the long term
- Polarisation or semi-polarisation, the treatment that reduces the intensity of the reflected light off of wet asphalt or water surfaces. Ideal for water sports such as fishing and sailing.
- Mirroring, useful for the glasses of pilots, mountain climbers and skiers who need to reflect excessive brightness
- Colour filters used to block a particular shade of colour. A blue light filter is often used for the lenses of glasses worn by athletes who compete in the snow. 
How to choose sports eyeglasses online
The range of adjustable sports glasses sold online is extremely broad.
But how do you choose the right frame for your needs and your sport?
Carefully read the information provided in the product sheet of the style you're interested in. The more accurate they are, the more they'll help you understand the technical characteristics of that product. Always check whether the frame can accommodate adjustable lenses or what degrees of correction it can already mount. Here's an example.

Use the size guide to find your size in relation to the brand and fit parameters of the specific style.

Request a personalised vision consultation with our team of specialised opticians.
The tips below will help you to buy your sports eyeglasses online with complete peace of mind.
Pleyers, the eyesight expert for athletes
On our website you'll find one of the largest selections of sports glasses that are already prescription or adjustable for all sports: swimming, diving, cycling, motorcycling, winter sports and many more.
Need information or advice on choosing sports glasses?
Ask our eye care experts for a free consultation.