When it comes to road, MTB and gravel cycling and talking about cycling glasses, the very first requirement that must be met is the protection of the eyes against sun, wind, dust and insects.
This is followed by lightness, a comfortable fit and protection in the event of an impact or fall. Cyclists that wear glasses need a clear, safe view both of the road or track and the surrounding panorama.
How to choose the right prescription cycling glasses for your needs
When selecting glasses to offer to athletes, Pleyers' opticians carefully assess each element: frame, lenses, temples or elastic bands, temple tips and nose pads, only considering brands that use top-quality materials for frames and lenses, with particular attention to the ergonomics and comfort of the eyewear, as well as safety. In the case of prescription models for cyclists, the characteristics that all cycling glasses must have are:
Lightweight, durable and safe frame in case of fall or impact

Excellent adjustable lenses or with optical clip

Possibility of treatments and filters such as polarisation and mirroring, for sunglass lenses with correction

Wide range of colours and models for every style and need: MTB, gravel and road
To learn more, here you can read a guide that our experts have prepared to assist athletes in their choice of prescription glasses.
Cycling glass brands selected by Pleyers
NRC glasses
Considered by many enthusiasts and professionals to be the best cycling glasses. NRC Eyewear is an Italian company that manufactures sports glasses for cycling and MTB that uses only excellent materials and technologies, including ZEISS lenses.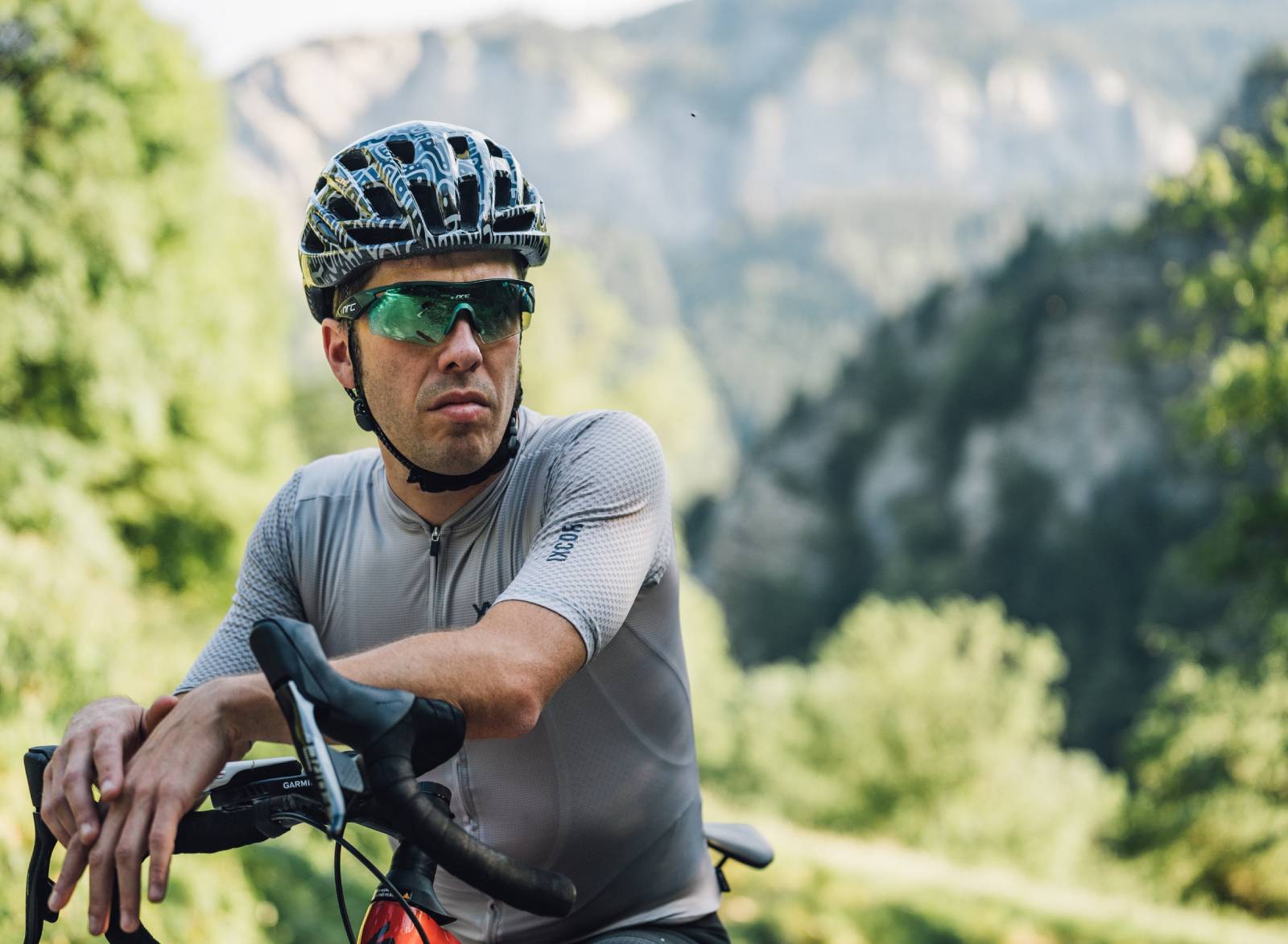 NRC offers lines dedicated precisely to those in need of cycling eyeglasses. Glasses capable of mounting corrective lenses even with very complex powers for major visual defects.
For those who are looking for photochromic cycling glasses and also need vision correction, NRC glasses are an excellent solution in terms of performance and comfort. 
They are curved, wraparound glasses with a wide field of vision and unrivalled optical quality, guaranteed by ZEISS lenses, the lightweight, non-deformable nylon sports lenses with certified hydrophobic and oleophobic treatment. The frames are specially designed, as needed, for:
accommodating an internal clip for mounting prescription lenses, which can be easily and independently positioned behind the photochromic or mirrored lenses of the glasses

mounting prescription lenses for any type of correction

sunglass lenses with interchangeable clip, the ideal solution for those who want to choose between contact lenses and prescription glasses, depending on their needs or light conditions
A particularly good solution for cyclists who need to correct their eyesight using the best technology applied to cycling models.
KILOMETRO glasses with adjustable lenses for every visual defect
A brand chosen for its dedication to the needs of cyclists with visual defects: the Kilometro collection is designed to offer a definitive, comprehensive and cost-effective solution to the cyclist in need of eyeglasses. They provide optimum performance, comfort, style and visual functionality in all situations: road cycling, MTB and urban cycling.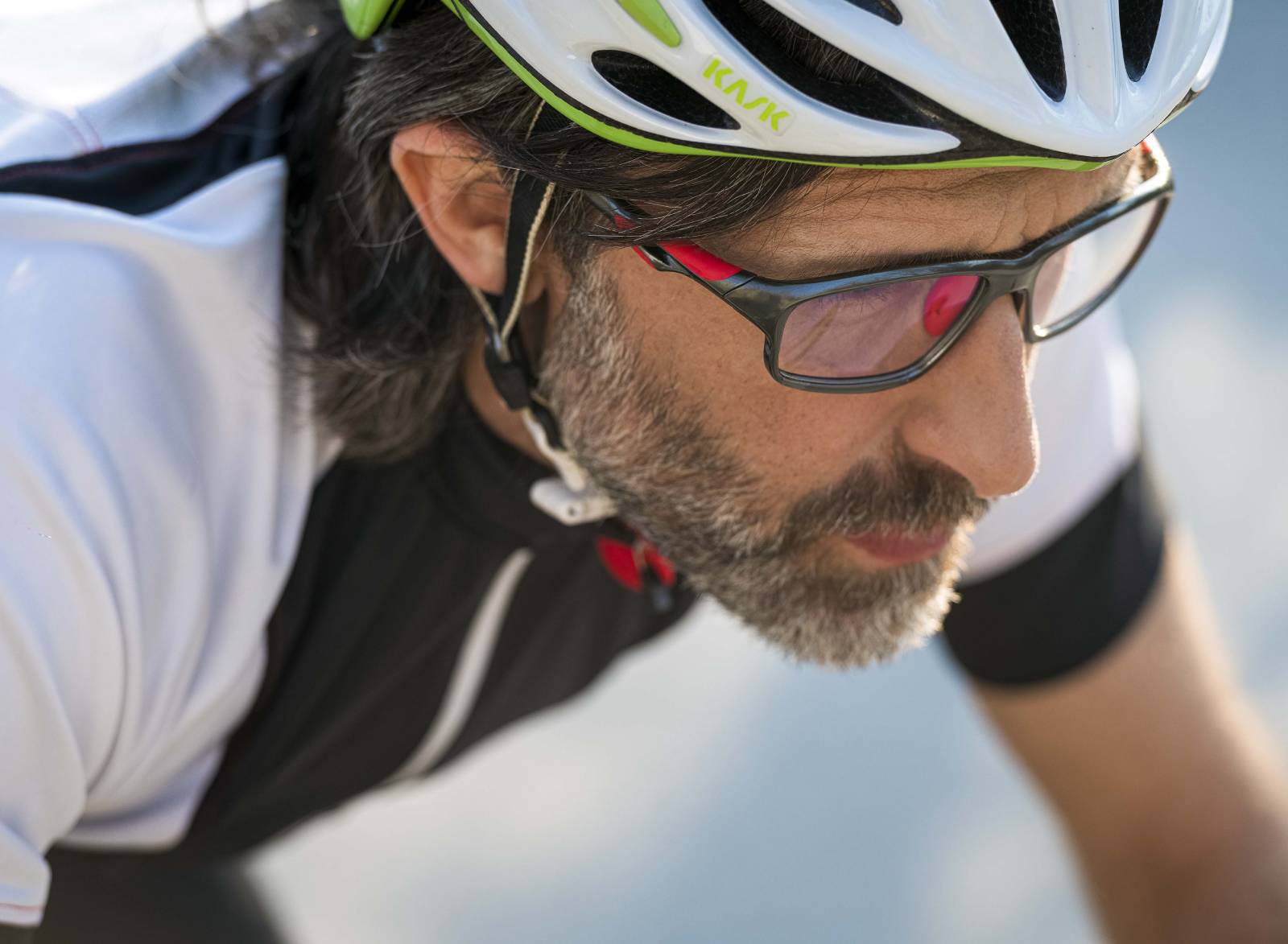 Extremely easy to mount, these prescription sports glasses are compatible with prescription lenses, even progressive lenses, with very complex powers for myopia (short-sightedness) and severe astigmatism. Buy cycling glasses online with the support of our trusted opticians.
Book a free personalised consultation for guidance in the choice of the most suitable sports frames and lenses, even for medium/severe vision defects, for myopia (short-sightedness), hypermetropia (long-sightedness), presbyopia (age-related long-sightedness) and astigmatism. Pleyers opticians will advise you on your purchase of the prescription cycling glasses that meet your needs.